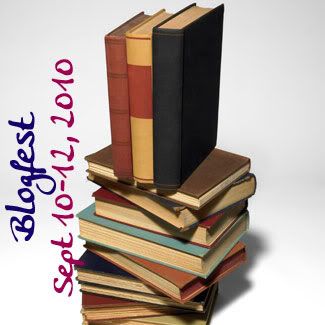 I'm a BlogFest 2010 participant! Visit my blog from Sept 10-12 for a chance to win one of four awesome prizes. Then visit the other participating BlogFest blogs for more chances to win.
(from the BlogFest blog)
What is it?
BlogFest is a blog run of sorts. A list of participating blogs will be provided on September 10, each offering a fantastic giveaway for readers to enter. Each blog will link to another, pulling readers through the fantastic party we'll have set up for them!
Rules:
The rules are quite simple.
1) Each blog must host a giveaway between 12:00 am EST on the 10th through 11:59 pm EST on the 12th. There are no stipulations as to the monetary value of this giveaway.
2) Each blog must post the links provided to them on the days of the event.
3) Your BlogFest post can remain as a single post over the multiple days, but make sure there is an easily visible link to it from the top of your blog. If people can't find your giveaway, they certainly can't enter it.
4) Giveaway rules are up to you.
5) We will have a webpage and database for visitors to use to help track their blog visits. While it is not mandatory that you direct your visitors there, it is a tool available to you.
Looking for the running list of participants? Or the list of running participants? Wait, don't run! You can find it here. The running list of tentative giveaways can be found online as well.